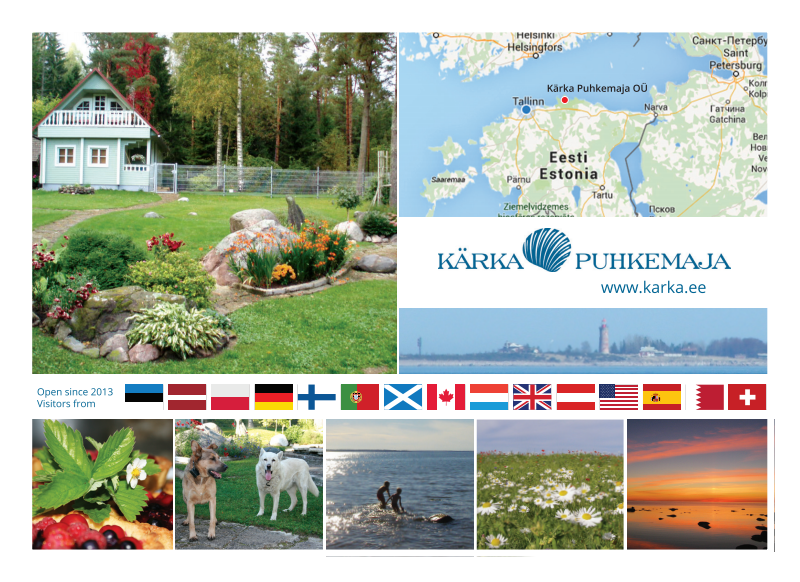 Two-storey, open plan small family house (67 sqm)
• Sleeping floor is for up to 4 guests (33 sqm).
• It has a sunny balcony.
• One double bed and two single beds. Possibility for one extra bed downstairs.
• Bed and feeding chair for a baby is free of charge. The staircase has a safety gate.
• In the room here is TV, free WiFi, books, journals and table games.
• Living room with a cozy fireplace downstairs (2 baskets of firewood included in the price)
• Well equipped kitchen corner (sink, fridge, stove, dishwasher, microwave oven, water kettle, coffee machine, toaster, crockery.)
• Our drinking water is excellent and not far from us you can find a natural spring as well.
• Shower with hairdryer and towels, WC and sauna (heating with woods).
• In front of the house you will find a marked smoking area on the terrace. You can barbecue or lay on the net swing near the flowerbed and decorative bushes under the birch trees. On the grass you can enjoy sun and the pure and healthy seaside air.
• nice sandy beach is ca 3 min walking from cottage. Sandy beachis are quite rare in Lahemaa so we are lucky to have one of them! Our sandy beach with wild rose bushes and often sliding swans and wonderful sunsets is about 1 km long.
Because we also have many allergic guests, we can't allow you to take your pets with you. We are sorry for that!
The house is not rented for festivities.
In summer we offer for active guests:
• bicycles 10 EUR per day
• walking sticks for free
• Charcoal grills are free – you can also bring coals or buy locally
• Gas Grill rental is 10 euros a day
Payment: only cash accepted at the holiday house.
Nearest ATM is located in town Loksa where you drive trough to get here.
All bookings apply after prepayment.
Information and reservations
• House cleaning after visit is included if dishes are cleared and placed in position, debris removed. Otherwise plus cleaning fee 30 euros
• smoking is not allowed inside the house and on the sleeping floor balcony
• smoking place is outside on terrace at ground floor
• for everyone's safety you can not use open fire inside the house (including candles)
• leaving valuable items and money at holiday home is on your own risk
• we do not rent the house for parties
• we are grateful if you do not take your pets with you
We will be glad if you visit us!